Meeting Dr. Tsai, start smiling more!
Shih-jaw Tsai 蔡士棹 is one of Taiwan's leading orthodontists.  He recently sat down with us for a discussion about what treatments are available, his philosophy about esthetic dentistry and where he sees the future of orthodontics going.
Q: You speak English very well.  What other languages do you speak?
A: Well, I can also speak a little Japanese, French and Italian. 

Q: Tell us about your family & where you grew up?
A: I was born to a middle-class family in Hsinchu and grew up there. 

Q: How many brothers and sisters do you have?
A: I have two brothers.

Q: Describe your focus in university.
A: My major was orthodontics and anterior esthetics / veneers.  I choose this field because of the strong sense of satisfaction I get from helping people feel more confident about their appearance.  I started my practice immediately after finishing my military service.  Now, eleven years on, I remain passionate about my work!
Q: Which university did you attend?
A: I graduated from National Taiwan University (Tai Da) and NTU's Department of Dentistry.  And studied at NTU's Graduate Institute of Clinical Dentistry, Master of Orthodontics.

Q: In what way is orthodontics easier than other areas of dentistry?
A: In fact, orthodontics are more complicated than general dentistry, as we must first complete training and certification for general dentistry before going on to add specialized study and national certifications for orthodontics.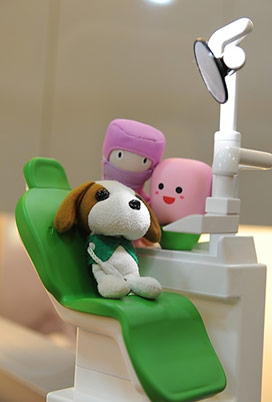 Q: Is age a factor for success in straightening teeth?  Is it easier to straighten the teeth of an adolescent than an adult?
A: Beginning younger can offer advantages, but age is not a deciding factor.  My patients have ranged from age 7 to 70!  

Q:What if a person has crowns on some teeth - can his or her teeth still be straightened?
A:Single piece crowns can be moved.  Dental implants and bridges cannot be.
Q: With Invisalign patients change to a different set of clear, removable braces about every two weeks?
A: Yes, that's right.  Though the treatment time for Invisalign and braces are about the same, you need fewer doctor visits with Invisalign.  When you come in your doctor will check your progress and deliver a few sets of aligners so that you can change them every two weeks on your own.  So, If you want to try Invisalign, only an Invisalign accredited orthodontist or dentist can treat you using Invisalign!  I was honored to be the first Invisalign Platinum Provider in Taiwan, 2011.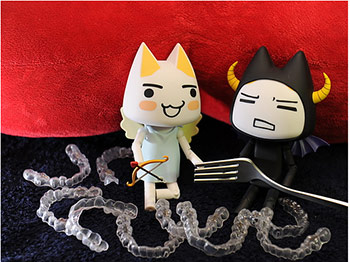 Q:When you first heard about the idea of removable braces what was your reaction?
A:"No braces?  Nothing to hide!" Starting in 1998 in the USA, Invisalign - by using a graduated series of clear, removable braces - straightens your teeth invisibly without bands, brackets or wires that can often cause discomfort.  The aligners are made of clear, medical-grade plastic that is virtually invisible.  Now you don't have to hide your smile even during treatment!  How amazing!

Q:From a scientific point of view, what is the most amazing thing about Invisalign?
A:Since Invisalign aligners are removable, you can freely enjoy your favorite food by simply removing the aligners when you eat.  You can also easily brush and floss to keep your teeth and gums healthy without having the traditional bands or wires to trap food and plaque. 
Q: What percent of the population is born with a "perfect" smile?
A: Very, very few people have a 100? natural"perfect"smile.

Q:In some countries the government will add fluoride to the water to help prevent tooth decay.  Do you think that's a good idea?
A: Yes, adding fluoride to the water to help prevent tooth decay is a good idea.  Most Western countries have added to the drinking water, but, unfortunately, not yet here in Taiwan.

Q: Can we talk about teeth whitening?
A: Teeth whitening is popular.  We will start with a mechanical way to clear stains from the teeth, restore the original color.  When this is not enough white, we can also use chemical methods.

Q:Best smile in Taiwan, male and female - who comes to mind?
A:Male- Show Lo
Female- Lin Chi Ling
Q: Some people have said that you provide Smile Therapy.  What do you think about that?
A: "You're welcome!"  Wanting to interact with others is human nature.  Confidence can make that easier to do.  To see patients  after (Smile Design) treatment, their satisfied, confident smile gives me my greatest sense of accomplishment.

Q: What's on the horizon for orthodontics? In ten or twenty years what are the biggest advances you see coming?
A: I believe that computer simulation technology will improve so that both physicians and patients will be able to know with an even higher exactitude what the results of treatment will be.

Q:How many dentists in your group all together?
A: Our team has over 20 professional dentists.  After treatment we hope you can have a bright, confident smile!